The caves of Sare are closed until February 05, 2023 included.
In the bowels of Atxuria
The clay layer at the summit of the Atxuria Mountain, in which the cave has formed, limits rainfall infiltration, which gives the many cavities it shelters an original geological formation.
One of them, called LEZEA or CAVES OF SARE, can nowadays be visited as it was over 2 million years ago !
You will discover an unusual geological formation, huge rooms with astonishing dimensions, an entrance porch among the biggest of Aquitaine and of course the habitation site and daily activities.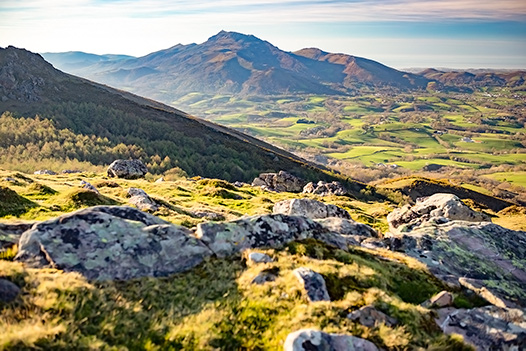 A visit accessible to everyone
The guided tour lasts 45 minutes along a secured laid out path accessible to most people and fully equipped for sound and light show. You will be guided by lights and sound along this scripted tour, and a guide will always be at your side to give you further information.
The ultimate technologies, in particular LED lights, are used in the cave to optimally guide visitors and preserve the environment of the underground and its natural "occupiers"...
The topics addressed during the tour :
The unusual geological formation ;
Prehistoric habitation ;
An approach to Basque mythology ;
An approach to the origins of the Basque people according to JM de Barandiaran.
Reserve online
Guided tour of the cave
1 : Entrance porch (and exit)
2 : Prehistoric habitat site
3 : Concretion (stalactite)
4 : Tubulure
5 : Fossils
6 : Gours
7 : Lake - Introduction to Basque culture
8 : Txalaparta - ancestral musical instrument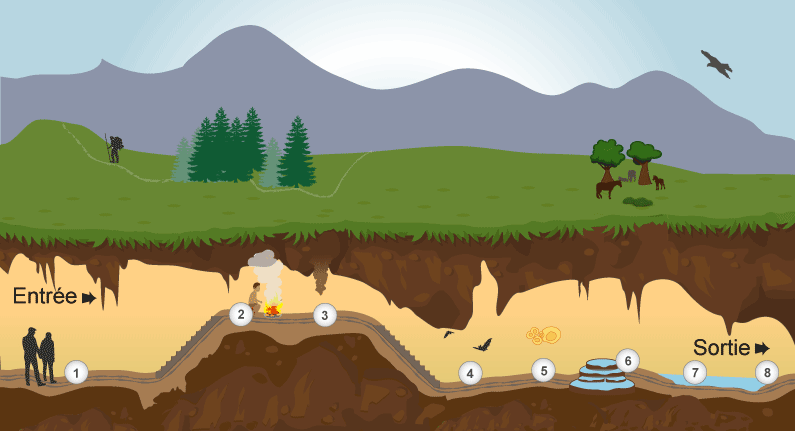 The entrance and exit of the visit is done by the same porch.
At the bottom of the cave, strange encounters...
The Caves of Sare did not only shelter humans, but also...cave bears which hibernated in the cavity over 10.000 years ago!
Now more than ever, bats are the mammals that have settled in the cavity. Thanks to a collaboration with the Conservatoire Régional des Espaces Naturels (regional association for natural areas), the Groupe Chiroptère Aquitaine (chiroptera group of Aquitaine) and the Espaces Naturels Aquitaine association (natural areas Aquitaine), the site of the Caves of Sare is now listed as a habitat of international interest due to the numerous species that live there.
Natura 2000 classified site
Today the Grottes de Sare are part of the European Natura 2000 network. The aim of this network is to maintain the biological diversity of the environment via a sustainable development approach.
The Grottes de Sare are located within the Larrun - Xoldokogaina massif, which includes various forests, moors, wetlands, caves and cliffs plus rich and varied flora and fauna with some endemic species. Stag Beetles, White Claw Crayfish, Quimper Snail, Rosalia longicorn, Hairy Soldanelle, Drosera, and many others are all to be protected around the Grottes de Sare, without forgetting the different species of bats that are regularly monitored in the caves.
This designation allows us to better know and conserve our natural heritage.