Accessibility
& conditions of visit
Reservations are highly recommended and can be made up until the day before your visit. The same day, contact us on
+33 5 59 54 21 88
to know our availability.
Reception and visit conditions
The caves of Sare are equipped to welcome you as best they can, whatever your situation.
Work has been carried out to improve accessibility and the user-friendliness of the site.
A footbridge has been added to facilitate cave access to people with reduced mobility. The ground floor of the caves is flat enough to be followed. On the other hand, the caves themselves being a natural curiosity, access to the upper floor remains impossible.
Our guides are equipped with microphones - allowing all visitors to enjoy a better quality of listening and a constant volume, throughout the visit!
"BIM" loops have been installed. These allow people with hearing aids to listen to audio comments directly from the source, with no noise.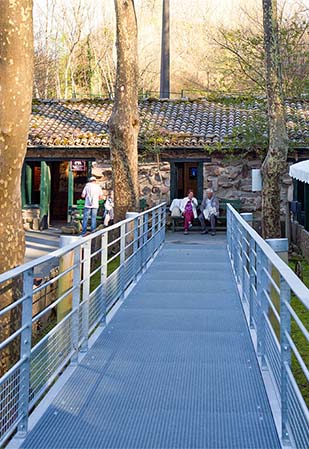 Please make your guide aware of any concerns at the start of the tour : they will help you.
For organizational reasons, we ask you, as far as possible, to call us before your arrival so that we can welcome you in the best conditions.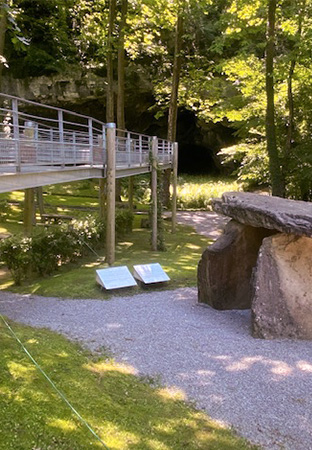 Individuals: People with reduced mobility (wheelchair)
Parking : 4 tarmacked parking spaces are provided in front of our ticket office. Access to the ticket office is easy (a distance of around 30 metres).
In the Museum and Megalithic Park : metal walkways have been installed to allow visitors to access these two places. For the Megalithic Park, it is preferable to be accompanied, as part of the course consists of gravel.
Toilet : A ground level toilet is located in our bar-restaurant area. Please just ask the bar staff for the key.
The shop is managed by a private company. Access to the inside of the shop is provided at the main car park.
Visiting the Cave :
It is possible to carry out a part of the guided visit thanks to a landscaped route. For this, you must be accompanied during part of the visit by a group member, so you are supervised. For this reason, it is essential to inform us of your arrival by phone (+33 59542188) 48 hours before so that we can be organised. Without this prior notice, we shall reserve the possibility, dependent on events (inclement weather, peak times, full visits, staff being unavailable etc.) to defer or postpone your visit.
For your comfort and to help with visitor management, we will mainly welcome you to those visits planned in the morning.
Individuals: People who move with difficulty
The cave visit is only guided by sound and lights. The tour lasts 1 hour including around 50 minutes in the cave.
The group needs to keep pace with the visit system in order to stay systematically in the lit areas. Through experience, and after discussing it with you, we reserve the right to advise you against the visit. This is in order to both respect your health and not incur any risk.
The length of the route is 900m, across 2 levels of galleries. There are stairs (around forty steps to climb to access the upper level of the cavity to see the habitat site, then around thirty to access the lower gallery). This guided tour is interspersed with stops to observe and listen.
The route is laid out: the floor is uniform and there are handrails at the stairs.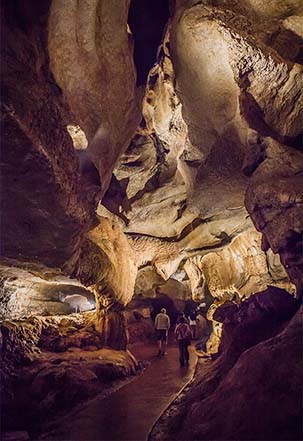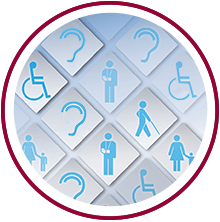 For groups with disabilities (> 8 people)
An advanced reservation is required.
All of our visits are guided. You must contact us (by phone +33 559542188 or by email) so we can agree together on a visit date and time slot.
For you comfort and to help with visitor management, we will mainly welcome you to those visits planned in the morning.
Other disabilities
Please contact us for personalised information (Phone : 0033 5 59 54 21 88).